Double Column Milling Center
Slant Bed CNC TEACH-IN Lathe
Turning Milling CNC Lathe
Gantry & Turret CNC Lathe
GTL Series Gantry & Turret CNC Lathe
Machine & technology
Technology & Options
Controls
Specifications
Floor Plans

High performance Steel Bar/Part Turning Center
ARIX CNC Turning centers include the most innovative designs as the mineral stone filled base for high damping capacity, symmetrical ribs design for stability and rigidity, large headstock casting with a two pieces design for easy alignment; optional embedded chip conveyor that gives best sealing and efficient chip removal.
The NN type bearings spindle design guarantees the best performance turning.

Machines Features:
1. Interchangeable collets chuck and jaw chuck for different parts operation.
2. The Servo turret provides more flexible and faster tool change arrangement.
3. Mineral stone base generates the super finish surface and longer tool life.
4. Powerful vector torque motor option let the power up to 11KW.
5. High rigid spindle head unit can bear the spindle up to 60mm capacity.
6. The linear guides up to 30mm and 25mm ball screws guarantee the long-term rigidity and accuracy.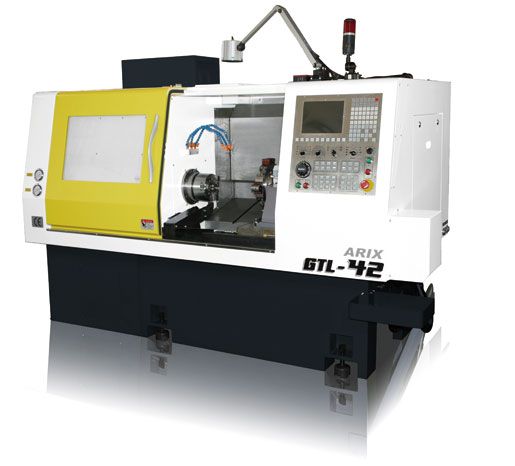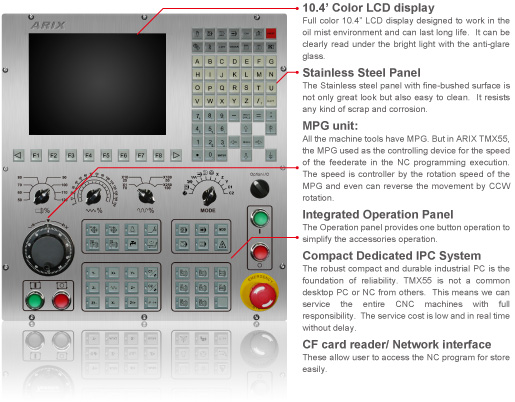 The Jaw chuck with gantry turret: The jaw chuck of 5" and 6" optional give the cutting range more flexible.
The Standard servo turret gives a accurate and speedy tool change. The hydranlic programmable tailstock wwith 150 mm manual stroke.
| | | | | |
| --- | --- | --- | --- | --- |
| | | | | |
| The standard part onveyor gets the production fully automation. | | The cooling system for Hydraulic system | | The large symmetrical head stock can bear bigger spindle up to 60mm capacity. |
Optional
The mineral stone base absorbs all the cutting vibration and generate super finish surface.

Oil Mister
The two steps hydraulic brake that can ensure the smooth C axis motion for machining in light braking force. The heavy braking can stop and take all the vibration from milling operations.
Live Tools Turret give capacity of
milling

The coolant through drill option cuts the good finish holes.
Durable and Compact Hardwares
Arix CNC TMX hardware has become more compact and reliable. The slimline operator panel has an extremely low mounting depth. High contrast and good readability even from extreme angle of vision make operation easier. All the keys arrangement is optimized for the operation on the NCL series with bar feeder.
| | | |
| --- | --- | --- |
| The rigid IPC unit equips with the low power dissipation industrial Pentium CPU, reliable servo boards and I/O boards. | | All the spindle inverter, AC servo drivers and motors are durable and permit the best reliability |
Optional Mitsubishi CNC unit.



.

All the spindle inverter, AC servo drivers and motors are durable and permit the best reliability.


.
Easy Progmminng Teach-In Functions
TURNING




(STRAIGHT AND TAPER)

FACING




(STRAIGHT AND TAPER)

THREADING




(STRAIGHT, TAPER AND MULTIPLE)

Input the profile data from the blueprint. Press the simulation key to generate the graphic tool path.
Input the specific parameters for this operation according to the graphic guide.
For straight, taper or facial type of threads can be multiple as well.
MPG SIMULATION
END DRILLING

GROOVING




(LONGITTUDINAL AND AXIAL)

After the machining program is loaded, select the MPG mode to let the NC program be executed according to the MPG rotaion speed.
Input the start, end point and drilling conditions to generate the NC program.
Do both longitudinal and axial grooving combining roughing and finishing.
| | |
| --- | --- |
| Turning Milling Machine Specifications | ( ) is the optional items |
Specifications
GTL-30
GTL-42
GTL-60
Capacity
Maximum turning diameter
130
130
130
Maximum turning length
200 mm
200 mm
200 mm
Bar work capacity
30 mm
42 mm
60 mm
Chuck size
4 inch
6 inch
8 inch
Spindle
Spindle nose
A2-4
A2-5
A2-6
Spindle speed
40~6000 rpm
40~4000 rpm
40~4000 rpm
Spindle bore
56 mm
56 mm
60 mm
Spindle front bearing inner diameter
80 mm
80 mm
80 mm
Spindle motor power
7.5 kw
7.5 kw
7.5 kw/11 kw
Axes
X-axis stroke
120 mm
120 mm
220 mm
Z-axis stroke
255 mm
255 mm
380 mm
X Axis rapid speed
15 M/min
15 M/min
15 M/min
Z Axis rapid speed
15 M/min
15 M/min
15 M/min
X Axis ball screw diameter x pitch
5 mm
5 mm
5 mm
Z Axis ball screw diameter x pitch
5 mm
5 mm
5 mm
X Axis linear guide size
25 mm
25 mm
25 mm
Z axis linear guide size
25 mm
25 mm
25 mm
X axis servo motor power
1 kw
1 kw
1 kw
Z axis servo motor power
1 kw
1 kw
1 kw
Turret
Turret type
Servo
Servo
Servo
Number of stations
8
8
8
O.D. tools shank size
20x20mm
20x20mm
20x20mm
I.D. tool shank size
25mm
25mm
25mm
Turret indexing time
(1 station)
2 sec
2 sec
2 sec
Tailstock
Quill diameter
55 mm
55 mm
55 mm
I.D. Taper
MT4
MT4
MT4
Tailstock stroke
80 mm
80 mm
80 mm
Others
Hydraulic pump motor power
1 HP
1 HP
1 HP
Coolant pump motor power
1/4 HP
1/4 HP
1/4 HP
Coolant tank capacity
170 L
170 L
170 L
Accuracy
Spindle runout
0.01
0.01
0.01
Positioning accuracy
0.005
0.005
0.005
Repatability
0.005
0.005
0.005
Floor space
3000 x 1300mm
3000 x 1300mm
3000 x 1300mm
Dimension
Machine height
1500 mm
1500 mm
1500 mm
Machine weight
3000 kg
3700 kg
4000 kg
| | |
| --- | --- |
| | ★ Design and specifications are subject to change without prior notice. |
Standard Accessories
Optional Accessories
‧Operative Lamp
‧Tool Box
‧Automatic Lubricant System
‧Auto Bar Feeder Machine
‧Transformer
‧Part Catcher
‧Chip Conveyor